Living in New Jersey, we usually get a taste of all four seasons. Sometimes summer will even peek its beautiful face out in the middle of winter….like our 70degree Christmas Day this year.
Regardless, around the end of January, we get winter in full effect and then comes the snow. Last weekend, we got over 2ft of snow and as much of a summer gal I am, I was loving it.
Snow Days call for warm, comfy clothes, cooking comfort food and baking cookies. So while my boys were building a snowman, having a snowball fight or tubing at a nearby park, I was inside, all nice and toasty making clam chowder and chocolate chip cookies. Today I'm sharing my favorite snow day outfit as well as my chowder and cookie recipes.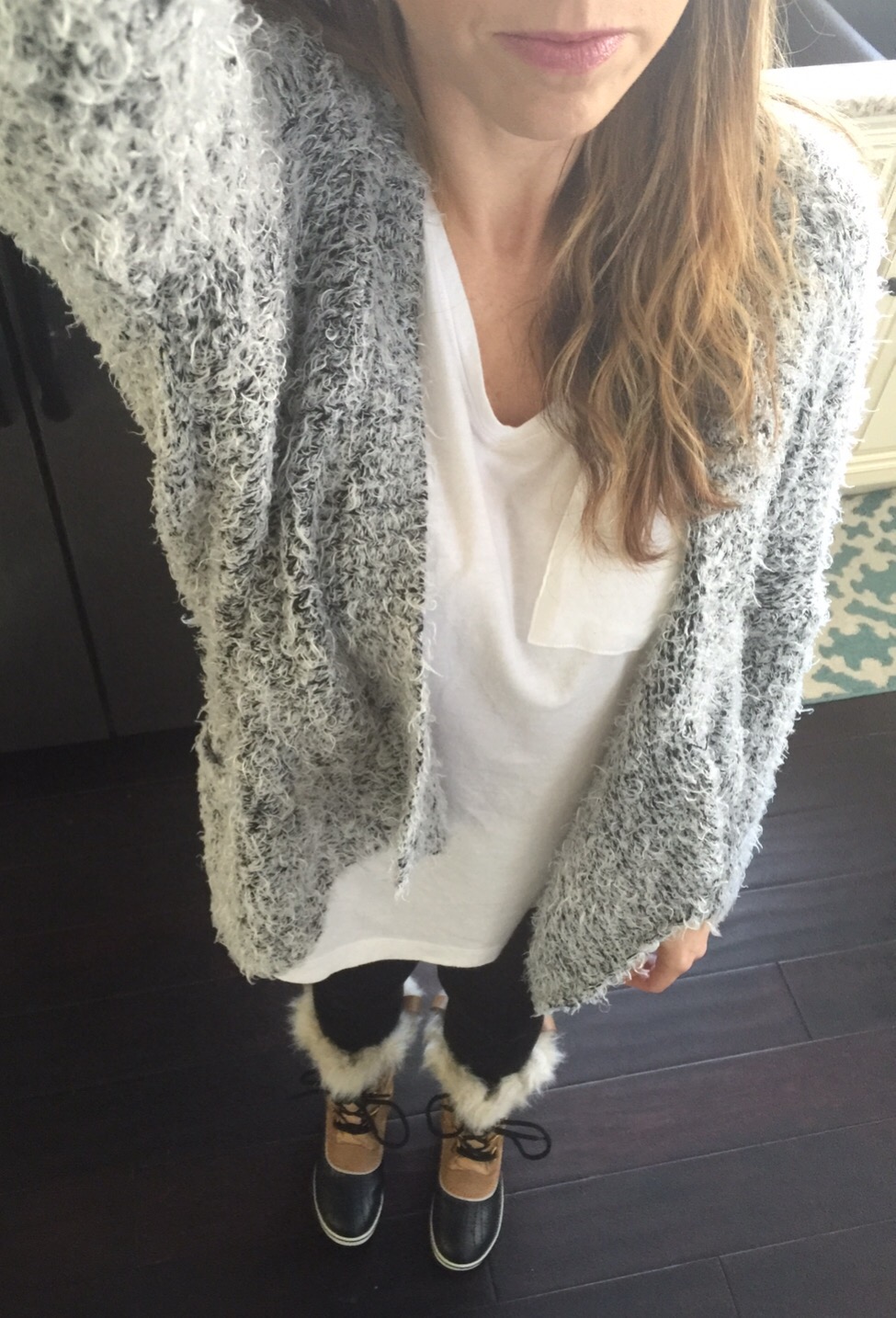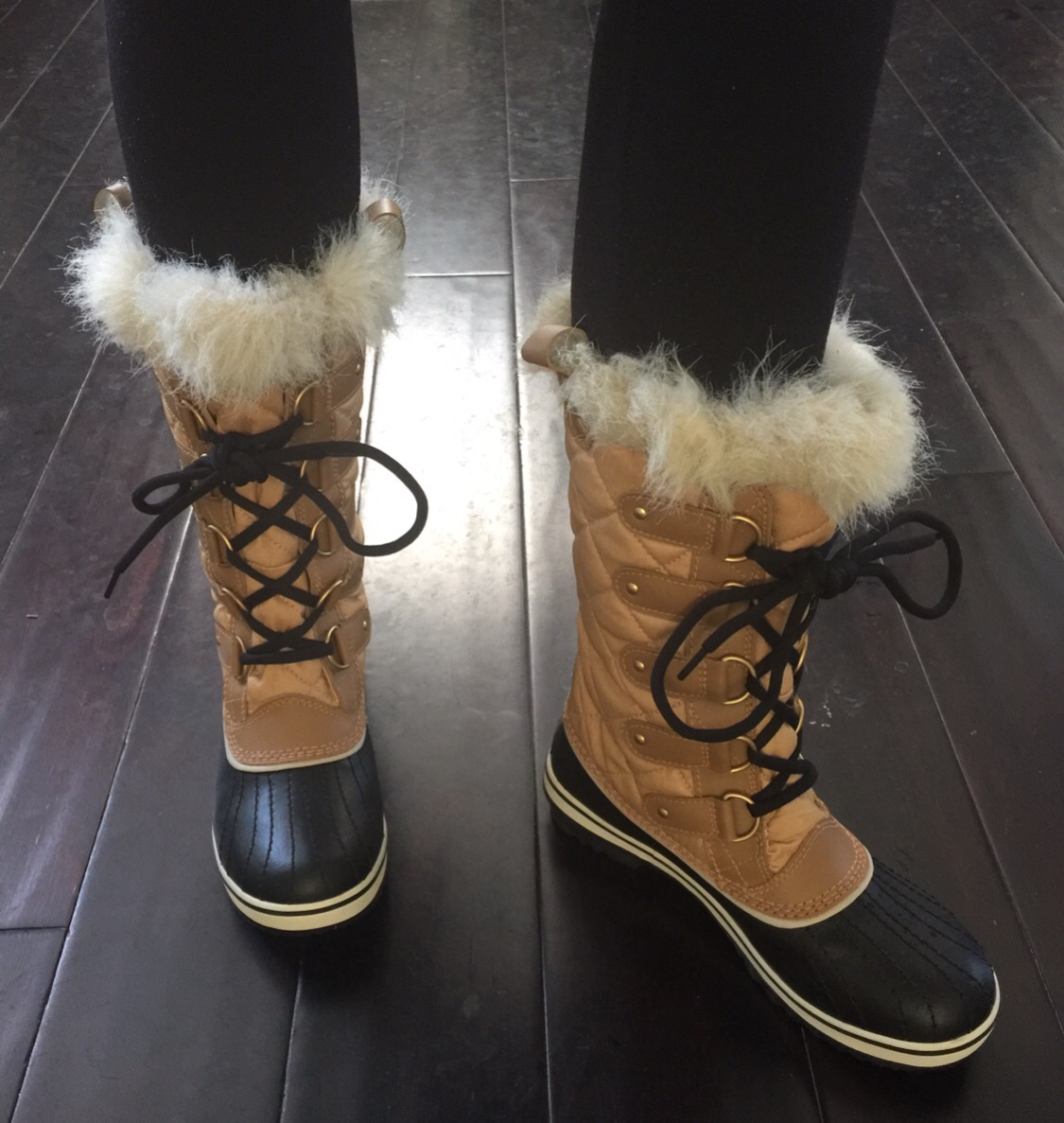 Boots (now on Sale!), Tee (I sized up for an oversized look), Sweater (skipper cocoon cardigan via StitchFix – no longer available), Leggings (old, but still available on Groopdealz for way cheap)
New England Clam Chowder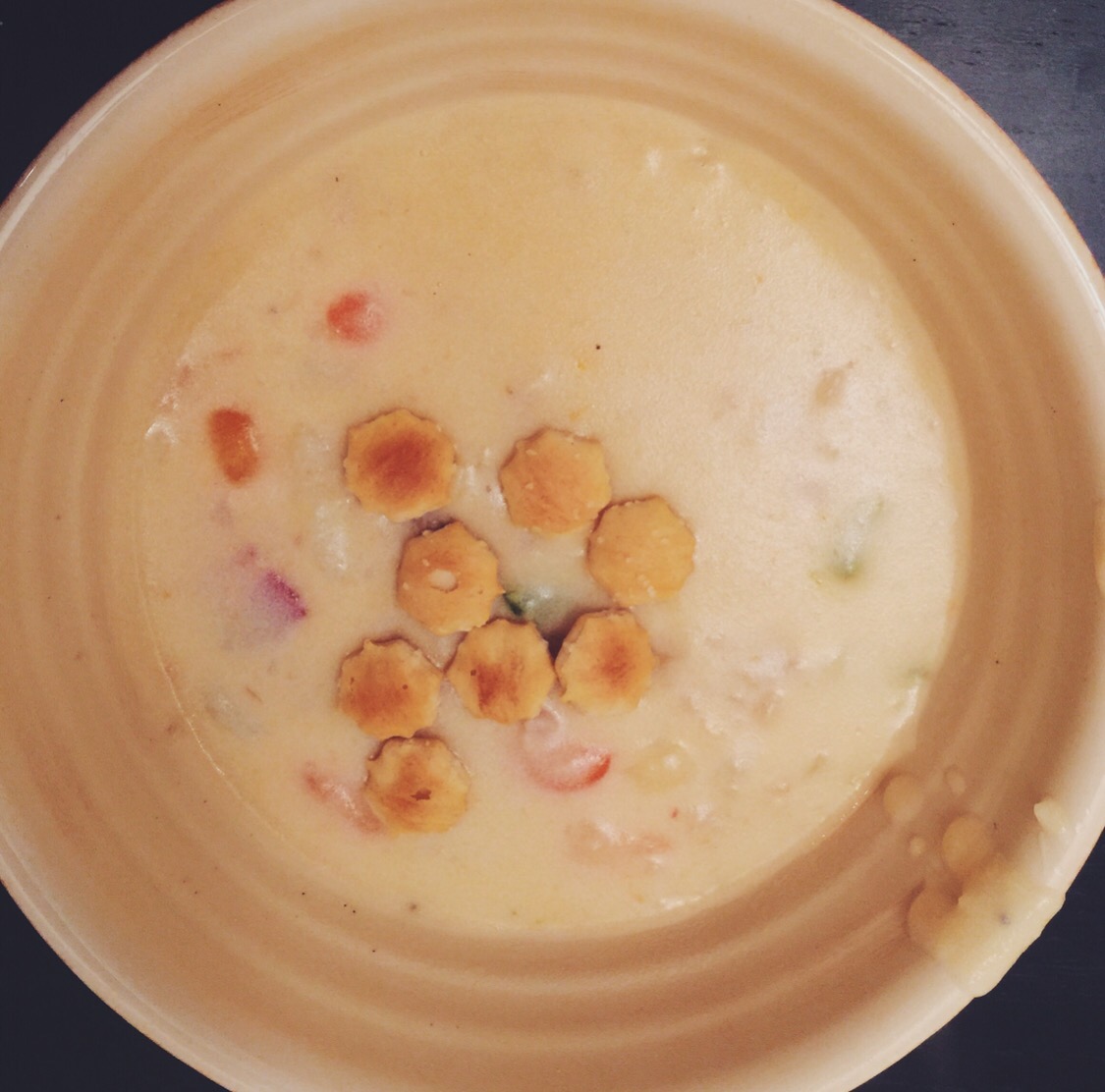 3 (6.5 ounce) cans minced clams
1 yellow onion, chopped
5 stalks celery, chopped
6 potatoes, cubed
4 carrots, chopped
6 strips bacon, chopped
1/4 cup butter
3/4 cup all-purpose flour
1 quart half-and-half cream
2 tablespoons red wine vinegar
salt and pepper to taste
1 bay leaf
Put the onions, celery, potatoes and carrots into a large stockpot and drain juice from clams over them. Add bay leaf and water to cover, and cook over medium heat until tender.
Meanwhile, in a large, heavy saucepan, sauté the bacon with butter over medium heat. Whisk in flour until smooth. Whisk in cream and stir constantly until thick. This will get VERY thick, that's ok!
Stir sauce into the vegetables and clam juice. Season with salt and pepper. Heat through, but do not boil.
Stir in clams about 10mins before serving. Then add red wine vinegar and season some more with salt and pepper when you're getting ready to serve. Add some oyster crackers and Tabasco to taste.
The BEST Chocolate Chip Cookies!
**I got this recipe years ago from a friend and tweaked it a little, but its my absolute favorite and always gets rave reviews**
2 cups + 2tbs Flour
½ tsp baking soda
½ tsp salt
1 ½ sticks butter, melted and then cooled until warm
1 cup brown sugar, packed
½ cup white sugar
1 large egg + 1 yolk
2tsp vanilla extract
1 ½ cups semisweet chocolate chips
Preheat oven to 325.
Line cookie sheets with parchment paper.
Whisk dry ingredients and set aside.
With hand mixer, mix butter and sugars until thoroughly combined. Beat in egg, yolk and vanilla until combined. Add dry ingredients and beat at low speed just until combined. Stir in chips by hand.
Roll dough in balls and place on cookie sheets.
Bake, turning the cookie sheet halfway until light golden brown, about 16-18 mins.
Cool on sheet and then on wire rack.
What is your idea of the perfect snow day?